McKinney TX Home Prices & Home Values
See McKinney TX Home Prices & Home Values at Brownstead Real Estate, LLC
See McKinney TX Home Prices & Home Values at Brownstead Real Estate, LLC and contact us anytime if you would like more detailed information.
Contact us 7 Days a Week McKinney TX Homes for Sale How much is my McKinney TX Home Worth?
New Construction Homes for sale in McKinney TX
Homes in Communities with Community Pools in McKinney
Median Sales Price of Homes in McKinney TX
The median sales price of homes in McKinney TX for September 2022 was $569,000, a 12.7% increase over the last 12 months. Although mortgage interest rates have increased gradually over the past severla months, McKinney TX continues to grow and with that growth, the demand for housing is expected to increase as well. Additionally, home prices in Frisco, Prosper abd Celina have skyrocketed dramatically, whereas, in most cases, buyers are finding more affordable housing options in McKinney.
McKinney TX Housing Inventory for September 2022
The September 2022 McKinney TX Housing Inventory has increased 53.4% compared to September 2021, yet the inventory is far less compared to September 2020.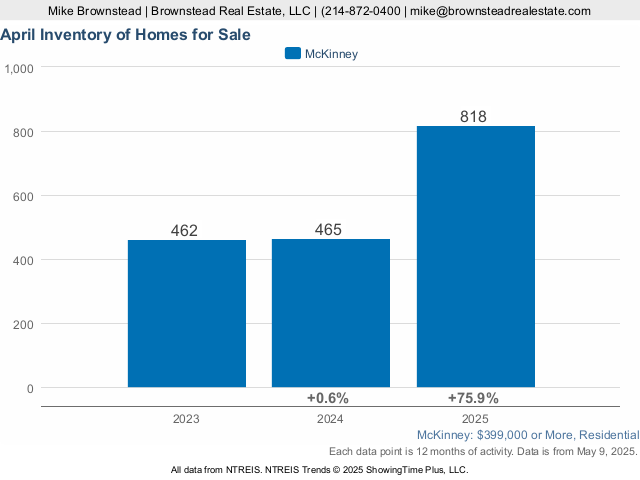 Request your free estimated McKinney TX House Value TODAY!
About McKinney TX
McKinney is a city located in Collin County Texas, United States. It is part of the Dallas-Fort Worth metroplex and is situated approximately 32 miles (51 kilometers) north of downtown Dallas. With a population of around 200,000 as of 2021, McKinney is one of the fastest-growing cities in the United States.
Historically, McKinney was established in 1848 and named after Collin McKinney, a signer of the Texas Declaration of Independence. The city has preserved much of its historical charm with a picturesque downtown area featuring brick streets, unique shops, and restaurants. The downtown area is known for its vibrant community events, including art festivals, parades, and farmers markets.
McKinney offers a diverse range of housing options, from historic homes to modern developments. The city's neighborhoods are known for their well-maintained suburban settings and family-friendly environments. McKinney has consistently ranked among the top places to live in the United States due to its quality of life, educational opportunities.
Education is a priority in McKinney, with several highly regarded public and private schools serving the community. The McKinney Independent School District operates numerous elementary, middle, and high schools. The city is also home to Collin College, a community college offering a wide range of academic programs.
The economy of McKinney is diverse, with various industries contributing to its growth. The city has a mix of corporate headquarters, small businesses, and a growing entrepreneurial community. Major employers in McKinney include Raytheon Intelligence & Space, Encore Wire Corporation, and Medical City McKinney.
McKinney boasts numerous parks, trails, and recreational facilities, providing ample opportunities for outdoor activities. Some popular destinations include the Heard Natural Science Museum and Wildlife Sanctuary, where visitors can explore nature trails and learn about local wildlife. The city also has several golf courses, sports complexes, and community centers.
In terms of cultural attractions, McKinney has a vibrant arts scene with galleries, theaters, and music venues. The McKinney Performing Arts Center hosts various live performances, while the Arts in Bloom festival celebrates local artists and their work.
When visiting McKinney, be sure to visit Historic Downtown McKinney, McKinney Performing Arts Center, Heard Natural Science Museum & Wildlife Sanctuary, and Adriatic Village and HUB 121.
Overall, McKinney offers a blend of history, modern amenities, and a strong sense of community. Its growth, well-planned development, and commitment to preserving its heritage make it an attractive place to live, work, and visit.
McKinney TX Home Prices & Home Values